"I prayed for this child and the Lord has granted me what I asked of Him. So now I give Him to the Lord. For his whole life he will be given over to the Lord." 1 Samuel 1:27-28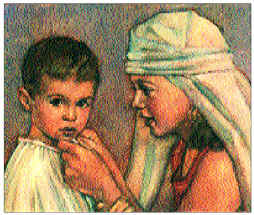 I am the mother of a very special little boy. To glance at him you'd never know how special he really is. He can't run and jump like other little boys, but he has the biggest heart you've ever seen. I asked the Lord for a child and He answered me, not necessarily in the way I would have chosen. Just like Hannah did. She prayed for a son and God answered her prayers. He blessed them with Samuel who went on to become the first of many prophets called by God. But in order for her to have her son, she vowed to give him over to the service of the Lord. When the time comes, I pray I can be like Hannah in that I can send my precious son into the world to be used by God.
I wonder how Hannah must have felt as she gave her son to Eli. I'm sure she mourned him almost as if he was dead as she wouldn't see him, hold him, or care for him anymore. As I pondered Hannah, I kept reading in 1 Samuel and God showed me a passage that answered my question. Because she was faithful and followed through on her promise to give Samuel up to the Lord, He found favor with her and blessed her by allowing her to bear more children. But she never forgot her firstborn.
"Each year his mother made him a little robe and took it to him when she went up with her husband to offer the annual sacrifice." 1 Samuel 2:19
She only saw her son once a year! But we know she thought about him daily. I don't know how long it took to make a robe, but I'd guess it took some time. I can see Hannah sewing the seams and praying with each stitch for her precious son. Isn't that so like a mother? No matter what happens to our children--we never forget them. We could lose them to unbelief, rebellion, or anything else Satan could devise--but we NEVER forget them. We pray over them and keep believing in God's plan for them. Just like Hannah did...and look how God used her son that she placed in His loving care. I'm thankful His hands are where we've placed our Sam because he has been chosen and is loved by a mighty and soverign God!