November is the month for gratitude. The month has beens set aside as a time to give thanks for all we have. Even secular circles acknowlege this time of thankfulness...to something or Someone bigger than themselves. My question is, as Christians, should we only observe a season of thankfulness as the world does or should our every breath be one of gratitude?
He has given us the breath in which we draw life, the breath which allows us to live the life He has given to us. Should we not be grateful to our Creator for each precious breath we are given? Paul tells us in 1 Thessalonians 5:16-18 to:
Be joyful always, pray continuously, give thanks in all circumstances for this is God's will for you in Christ Jesus
.
And again in Philipians 4: 6:
Do not be anxious for anything, but in everything, with prayer and thanksgiving make you requests known to God...
Time and time again, He has recorded for us in Scripture the words thanks (or thanksgiving). I'm thinking He intends for us to be aware of the fact He is the giver of all things and He is the reason we are even on this earth in the first place. Don't fall into the worlds trap of celebrating only a season of Thanksgiving. Let everyday be one of gratitude, thanking your Father for all He has done and has yet to do for you, His child.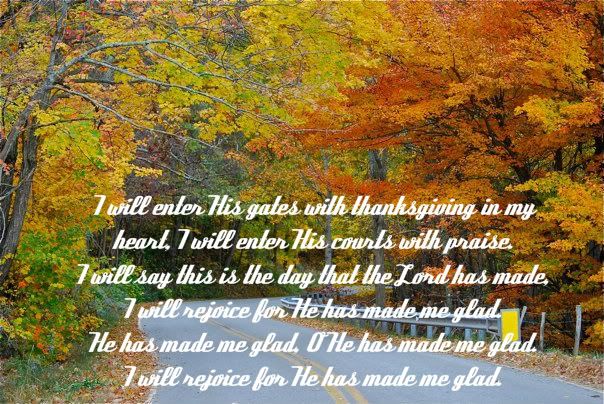 Continuing to count one thousand gifts...
#151 Christian bookstores
#152 Sam was able to climb the ladder and slide by himself at school this week
#153 Peanut butter french toast
#154 My new phone
#155 The ability to spend time with the family camping last weekend
#156 My flexible hours at my job
#157 Zach made A/B honor roll, after the hard time he's had so far this year
#158 New bible studies to help me dig deeper into the Word of God
#159 School pictures
that show how much my boys have grown each year
#160 Big orange (hubby's truck) that is paid for...and is still running this month :)
Don't forget about the great giveaway of the DVD The Christmas Lodge...winner announced Friday-just leave a comment daily!