The tongue also is a fire, a world of evil among the parts of the body. It corrupts the whole body, sets the whole course of one's life on fire, and is itself set on fire by hell. James 3:6
Got a riddle for you: What is the one muscle we exercise the most that needs it the least? Give up? The tongue (the verse kinda gave it away). Why is it we seem to think one of the smallest muscles in our body needs so much exercise? We flap it all day long.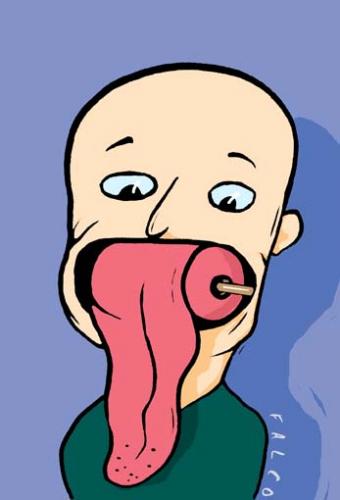 Most times, we need to use this little organ, but then sometimes...oh my. It'll get us in trouble in a minute. I know this well. You could count on me to tell everything I knew and some things I didn't. This grew into little white lies as an adult. No biggies, just little ones that no one knew but me and Him. What about gossip? Oh girl, I work in an office full of women. I try to stay out of the talk, but sometimes you really just can't help it and that muscle just takes off for a little bit of an extra workout.
James wasn't kidding when he said the tongue can corrupt the whole body. It not only can corrupt you, but your relationships and your witness to others. Guard your tongue people. This is one of the hardest things I think we'll ever do as a Christian. Sometimes, I wish I had a delete or mute button, but God didn't bless us with one of those. So, we have to commit to taming this wild thing. I want a lazy tongue, how about you?